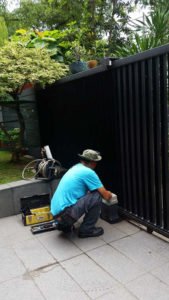 An automatic gate system is one of the most significant investments you will make to increase safety in your home. So, when a problem crops up with your auto-entry system, it's essential to address it immediately through a professional auto gate repair.
San Automation Gate provides top quality auto gate repair services for auto sliding gates and auto swing gates that include automatic gate repair, access control repair and more. Having more than 15 years of experience in the auto gate industry, we have a diverse portfolio in servicing all types of residential and commercial driveway gates in Singapore.
Our repair services include:
Troubleshooting
We track down the problem and provide a realistic estimate of the cost of repair and/or replacement.
Installation
We also offer automatic gate installation services for properties without an auto gate system prior or houses under development.
Replacement
We also take over partial or total replacement of auto gate spare parts including motors, electric lock, electric board and remotes.
Maintenance
We also offer our expertise in maintaining your auto gate systems to prolong the lifespan of your gates.
Our repair services guarantee that you get professional servicing by our team of highly-trained and reliable gate technicians. We also source the highest quality parts of automatic gates available so you can rest easy that your driveway gate will be back in operation in no time.